Building of the Waterfront Floriana
Valletta Waterfront
In 1727Grandmaster Anton Manuel de Vilhena ordered these stores to be built and were named "the Forni Stores".
App info: In our app you will find the location, address, opening hours and admission / entrance fee of this spot. If you use the app, you will find additional information and news about this spot on this page.
In 1752 Grandmaster Manuel Pinto de Fonseca decided to extend this area with 19 shops and a church, designed in baroque style by Andrea Belli. The church was built for spiritual services for the employees of the shops and stores and for sailors who were moored there. The church was inaugurated in 1752. Although it is small there are two bell towers and a dome. Above the door there is the coat of arms of Grandmaster Pinto decorated with an imperial crown. Below the crown is an inscription "Aeterna Patris Figlio Matri Semper Vergini Nec Non Putativo Patris In Aegypto Tutatis in Humilimae Servitutis Titulum. MDCCLII MDCCLII".
On the left side of the church (Church of the Flight into Egypt) the Pinto stores were mentioned and on the right side the "Forni Stores".
Malta was in a strategic location in the Second World War and the British Navy played a significant role in the Mediterranean Sea because disabling the Malta Dockyard was also on the priority list of the enemy. When the Luftwaffe bombarded these beautiful buildings including the church, they were hit by bombs and some shops were completely destroyed.
All of it has been restored to its original state. The church was restored in 1989 and inaugurated in 2006. Above the main altar there is a painting which shows the flight of the Holy Family to Egypt. The inner walls are richly decorated with sculptures.
The colours on the doors indicate what was stored there. Yellow for wheat, red for wine, blue for fish and green for agricultural products.
Although the building is situated in the municipality of Floriana, it is still called Valletta Waterfront. In front of the Waterfront there is a marina which is now used for small boats and the stores and shops have been changed into bars, shops and restaurants. One of the old shops is now the entrance and way out to customs from the docking place of cruise liners and is the entrance gate to Valletta for almost one million passengers yearly.
Additional Online information
The cozy terraces in the evening.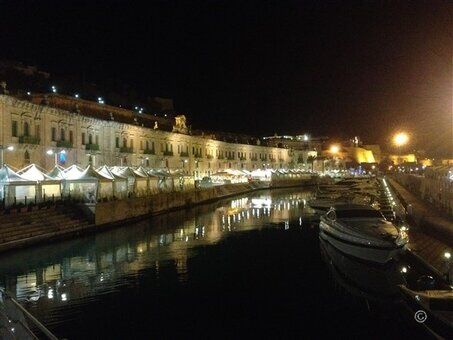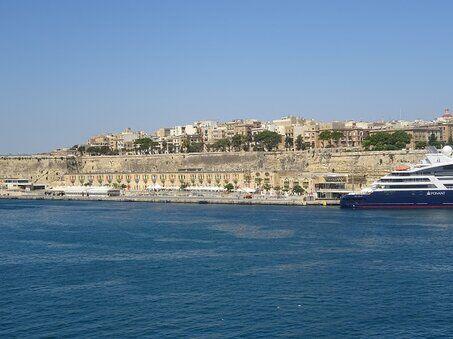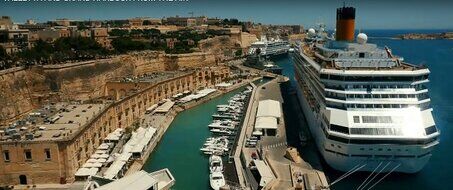 The free app
Down load our app. This is the best, ultimate and most comprehensive app you can get of Malta.
Valletta Waterfront
- Find tourist and Holidays information about Rabat in our Map app and discover interesting sights. Find all things to do and places of interest in your tour.
We provide so much information that two apps has been created, Valletta - Mdina and island Malta - Gozo. You will see in this series more than 350 places of interest and discover the many historical secrets of the country Malta. In the Valletta - Mdina app is also included it neighboring Floriana en Rabat and is also useful if you are taking a cruise through the Grand Harbour of Valletta and the Marsamxett Harbour. This Valletta app is also great when you enter the grand harbor via a cruise ship!
This series is also convenient whether you are walking, driving a car, or using the hop-on and hop-off bus trip, boat trip, etc.

his app provides you with general information about the sights, Malta's beauty, secrets, history and culture, its architecture, fortifications, etcetera and specific information as: what took place here?; When was it built and by whom?; What are the functions of all these buildings?
The app describes also religious subjects, museums, parks, places of interest, public toilets and much more useful information. Interesting texts set up by local experts and additional informative photos make this app distinctive.
This app answers many questions and shows in an easy to navigate way where the sights are located. A great landmap and citymap made specifically for you, is a great tool. You can immediately see where you are and where the sights are.
Everything in the app is easy to operate, without any knowledge and suitable for young and old.

This app is free while you normally would pay for a guided tour, you may enjoy navigating through Malta on your own terms.
This app is constantly maintained about: attractions which are closed due to renovation, changed entrance fees or opening times, etc. This maintenance costs a lot of money. However, it has been decided not to include annoying advertisements. The app has no hidden costs.
If you are visiting
Floriana
and you want to walk there and see the most interesting sights, our free app is a perfect tool. You will immediately find out what there is to do in
Floriana
. At a glance you see the most interesting places, so that you can determine your own walk. With the app you have a clear map and you know where you are during your own Waking tour.