Church Sanctuary Basilica of Our Lady of Mount Carmel
The Sanctuary Basilica of Our Lady of Mount Carmel
The Basilica of Our Lady of Mount Carmel - Carmelite Church (Maltese: Bażilika Santwarju tal-Madonna tal-Karmnu) is a Roman Catholic church.
App info: In our app you will find the location, address, opening hours and holy mass / masses of this spot. If you use the app, you will find additional information and news about this spot on this page.
The first church was built around 1570 on the designs of Maltese draughtsman and architect Girolamo Cassar and dedicated to the Annunciation.
In the 17th century, it was given to the Carmelites and thus received its present patronage to Our Lady of Mount Carmel.
On May 15, 1895, Pope Leo XIII elevated the church to the rank of Minor Basilica.
During the WWII, the Basilica was significantly damaged that it had to be rebuilt. The church was rebuilt from 1958 to 1981.
The enormous oval dome, 42 meter high en total 64 meter's height from the street, can be seen from far away. From the Marsamxett Harbour can you see that it dominates the skyline of Valletta. The Dome is 3 meters higher than the tower of the Anglican Cathedral located next to it.
Additional Online information
Look for opening times or Holy Masses and location in our free app
Drawing below: Sculptor Joseph Damato has worked on the interior for 19 years. Striking are the columns of red marble.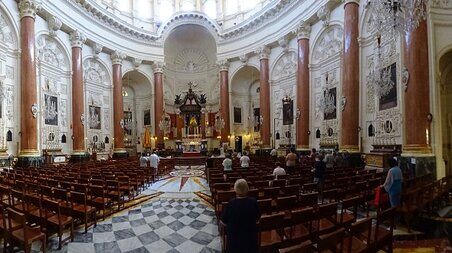 Drawing below: The dome from the air.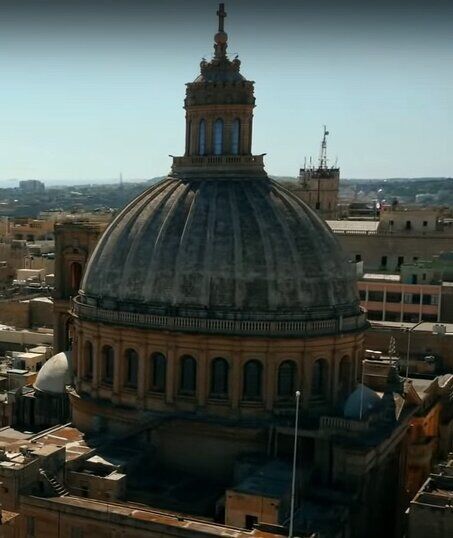 Photo below: Now you can see that the shape is oval.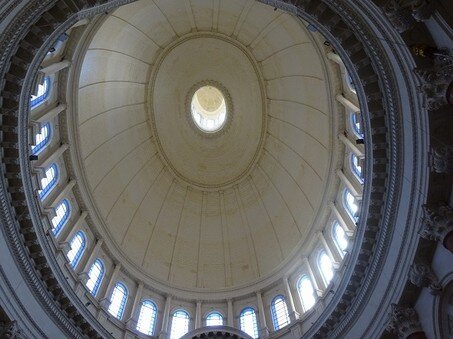 Photo below: You will find in the interior a painting of Our Lady of Mount Carmel dating from the early 17th century.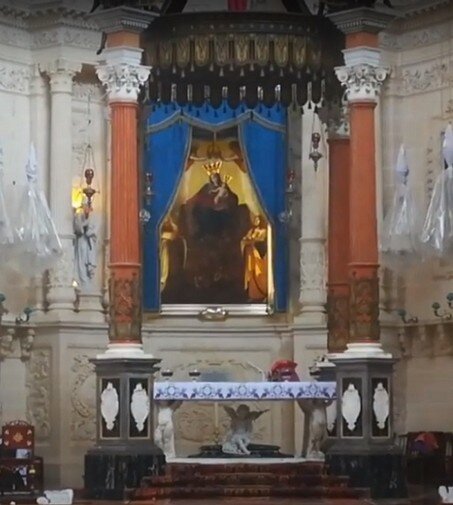 Photo below: One of the beautiful

holy

relics.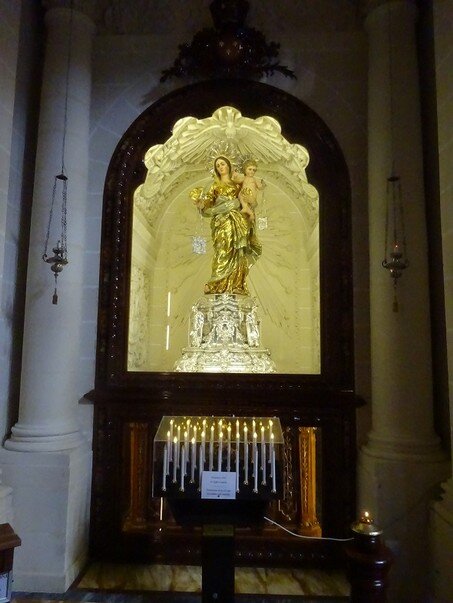 The free app
Down load our app. This is the best, ultimate and most comprehensive app you can get of Malta.
Sanctuary Basilica of Our Lady of Mount Carmel
- Find tourist and Holidays information about Rabat in our Map app and discover interesting sights. Find all things to do and places of interest in your tour.
We provide so much information that two apps has been created, Valletta - Mdina and island Malta - Gozo. You will see in this series more than 350 places of interest and discover the many historical secrets of the country Malta. In the Valletta - Mdina app is also included it neighboring Floriana en Rabat and is also useful if you are taking a cruise through the Grand Harbour of Valletta and the Marsamxett Harbour. This Valletta app is also great when you enter the grand harbor via a cruise ship!
This series is also convenient whether you are walking, driving a car, or using the hop-on and hop-off bus trip, boat trip, etc.

his app provides you with general information about the sights, Malta's beauty, secrets, history and culture, its architecture, fortifications, etcetera and specific information as: what took place here?; When was it built and by whom?; What are the functions of all these buildings?
The app describes also religious subjects, museums, parks, places of interest, public toilets and much more useful information. Interesting texts set up by local experts and additional informative photos make this app distinctive.
This app answers many questions and shows in an easy to navigate way where the sights are located. A great landmap and citymap made specifically for you, is a great tool. You can immediately see where you are and where the sights are.
Everything in the app is easy to operate, without any knowledge and suitable for young and old.

This app is free while you normally would pay for a guided tour, you may enjoy navigating through Malta on your own terms.
This app is constantly maintained about: attractions which are closed due to renovation, changed entrance fees or opening times, etc. This maintenance costs a lot of money. However, it has been decided not to include annoying advertisements. The app has no hidden costs.
If you are visiting Valletta and you want to walk there and see the most interesting sights, our free app is a perfect tool. You will immediately find out what there is to do in Valletta. At a glance you see the most interesting places, so that you can determine your own walk. With the app you have a clear map and you know where you are during your own Waking tour.