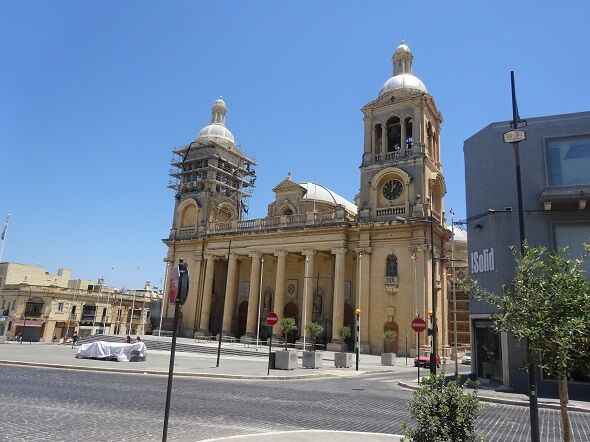 Parish Church Paola
Paola is known as Raħal Ġdid and is a new city built by Grandmaster Antoine de Paule. Before the city was built a request was made to Pope Urbanus VIII to found a church. On 31st July 1629 approval was given for the establishment. The Grandmaster had great respect and admiration for the sister Ubaldesca Taccini who joined the Order of St. John (Jerusalem) in 1136 at the age of 15 and she became St. Ubaldesca.
The first stone building which has been built in the new city was a 17th century baroque church dedicated to St. Ubaldesca. The first stone was laid by the 78 year old Grandmaster on Sunday 27th August 1630.

Due to the growth of the population the parish of Paola requested their own parish church in 1883. Bishof Pietro Pace granted the wish. Marquis Giorgio Crispo Barbaro di San Giorgio and Fra. Francis Attard led the process. In 1902 the church was enlarged and the original altarpiece, a painting of Bartolomeo Garagona has been replaced by a painting of Lazzard Pisano.

It became a parish church in 1910. As the city continued to grow due to maritime activities, the church was so full during mass that the people had to attend mass outside.

CHURCH CHRIST THE KING

Plans were made for a bigger church. Construction started in 1924 according to the design of Ġużè Damato who was also a great benefactor. The first mass was held in 1928, although the church was not yet finished. It became the parish church of Paola in 1936. The church was finished in 1959. The church was consecrated and dedicated to Christ the King by Archbishop Mikiel Gonzi on 3rd June 1967.

This church is the biggest of the country and the builiding has the shape of a Latin cross.

The process of elevating the church to the status of a basilica started in July 2019.
The feast of Christ the King is celebrated on the 4th Sunday in July.
Entrance information

Opening hours:
Show Times: Weekdays: 11:00 - 12:00 - 13:00 - 14:00 - 15:00 - 16.00
Weekends: 11:00 - 12:00 - 13:00 - 14:00 (not on Sundays);
Closed on 1st January, Easter day(April), 25th December (Christmas day).
Monday to Sunday: 10:00 – 16:30. Closed on 24, 25 & 31 December, 1 January & Good Friday
Monday to Saturday: 09:30 - 4:30, Last admission at 16:00.
No holy mass has been planned for this chapel
Holy Mass, Monday to Saturday at 7.30 and Sunday at 8.30, Maltese language
Holy Mass: Monday to Saturday at 6:00, 7:45 and 8:30 Sunday at 6:00, 7:30, 9,00, 10:30, 12:00 and 18:00.

Admission fee :
Adults Euro 16, Students (with valid student's card Euro 11.50, Childeren (5-11 yers old) Euro 6 and Children )0 - 4 yers old) Free. prices include The La Sacra infermeria tour.
Adults (18 - 59 years): EUR 10.00, Youths (12 - 17 years), Senior Citizens (60 years & over), and Students: EUR 7.50, Children (6 -11 years): EUR 5.50, Infants (1 -5 years): Free.

Additional:
The free app
Down load our app. This is the best, ultimate and most comprehensive app you can get of Malta.
Argotti Botanic Gardens
- Find tourist and Holidays information about Rabat in our Map app and discover interesting sights. Find all things to do and places of interest in your tour.
We provide so much information that two apps has been created, Valletta - Mdina and island Malta - Gozo. You will see in this series more than 350 places of interest and discover the many historical secrets of the country Malta. In the Valletta - Mdina app is also included it neighboring Floriana en Rabat and is also useful if you are taking a cruise through the Grand Harbour of Valletta and the Marsamxett Harbour. This Valletta app is also great when you enter the grand harbor via a cruise ship!
This series is also convenient whether you are walking, driving a car, or using the hop-on and hop-off bus trip, boat trip, etc.

his app provides you with general information about the sights, Malta's beauty, secrets, history and culture, its architecture, fortifications, etcetera and specific information as: what took place here?; When was it built and by whom?; What are the functions of all these buildings?
The app describes also religious subjects, museums, parks, places of interest, public toilets and much more useful information. Interesting texts set up by local experts and additional informative photos make this app distinctive.
This app answers many questions and shows in an easy to navigate way where the sights are located. A great landmap and citymap made specifically for you, is a great tool. You can immediately see where you are and where the sights are.
Everything in the app is easy to operate, without any knowledge and suitable for young and old.

This app is free while you normally would pay for a guided tour, you may enjoy navigating through Malta on your own terms.
This app is constantly maintained about: attractions which are closed due to renovation, changed entrance fees or opening times, etc. This maintenance costs a lot of money. However, it has been decided not to include annoying advertisements. The app has no hidden costs.
If you are visiting
Floriana
and you want to walk there and see the most interesting sights, our free app is a perfect tool. You will immediately find out what there is to do in
Floriana
. At a glance you see the most interesting places, so that you can determine your own walk. With the app you have a clear map and you know where you are during your own Waking tour.