Entrance of the National Museum for Fine Art
The National Museum for Fine Art
The Auberge d'Italy, the former housing of the Italian knights or the Order. At present the National Museum of Fine Arts, called MUZA, is housed in the Auberge d'Italie.
App info: In our app you will find the location, address, opening hours and admission / entrance fee of this spot. If you use the app, you will find additional information and news about this spot on this page.
From 1974 until 2016 the National Museum of Fine Arts was located in South Street, in a former building of the Order of St John, and during the British Period, the Admiralty.
The National Museum of Fine Arts provides a wide and varied overview of art in Malta, ranging from the Late Medieval period to modern times. Auberge d'Italie was designed by Girolamo Cassar in his usual austere Mannerist style and housed the Italian Knights of the Order, who had to vacate their premises on St George's Square when the buildings were refurbished to form the Grand Master's Palace. During the 17th century, further modifications were made to the building and in 1680, Grand Master Gregorio Carafa gave the building its baroque character. There is a large commemorative sculpture over the new entrance of the auberge, dedicated to this Grand Master Carafa.
After the French expelled the Order in 1798, it was used for various purposes, such as school, an officer's mess, military headquarters, the General Post Office, government departments and finally, until recently, the Malta Tourism Authority.Both local and internationally acclaimed artists have their works exhibited, among others William Turner, Albert Bierstadt, Valentin de Boulogne, Jusepe Ribera, Guido Reni and Antoine de Favret. It has also the largest collection of works of the Italian painter Mattia Preti (famous for his work in the St John's Co-Cathedral). Furthermore, there are collections of precious Maltese silverware, statuary in marble bronze and wood, fine furniture items and splendid majolica pieces. Antonio Sciortino was a famous Maltese sculptor, whose work can be classified as 'futurist'. A bronze copy of one of his works, Les Gavroches, characters from the novel 'Les Miserables' by Victor Hugo, is permanently exhibited in the Upper Barrakka Gardens.
Additional Online information
Look for ticket information, opening time
s and days
, entra
nce fee or donation and location in our
free app
or on our
opening and entrance information page
.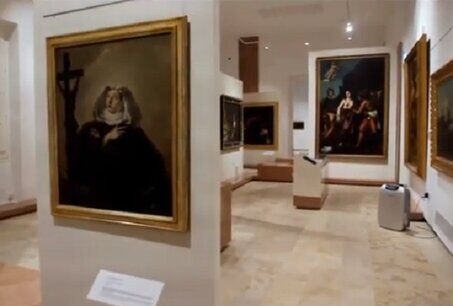 Fine arts and many sculptures
The free app
Down load our app. This is the best, ultimate and most comprehensive app you can get of Malta.
National Museum for Fine Art - Auberge d'Italie
- Find tourist and Holidays information about Rabat in our Map app and discover interesting sights. Find all things to do and places of interest in your tour.
We provide so much information that two apps has been created, Valletta - Mdina and island Malta - Gozo. You will see in this series more than 350 places of interest and discover the many historical secrets of the country Malta. In the Valletta - Mdina app is also included it neighboring Floriana en Rabat and is also useful if you are taking a cruise through the Grand Harbour of Valletta and the Marsamxett Harbour. This Valletta app is also great when you enter the grand harbor via a cruise ship!
This series is also convenient whether you are walking, driving a car, or using the hop-on and hop-off bus trip, boat trip, etc.

his app provides you with general information about the sights, Malta's beauty, secrets, history and culture, its architecture, fortifications, etcetera and specific information as: what took place here?; When was it built and by whom?; What are the functions of all these buildings?
The app describes also religious subjects, museums, parks, places of interest, public toilets and much more useful information. Interesting texts set up by local experts and additional informative photos make this app distinctive.
This app answers many questions and shows in an easy to navigate way where the sights are located. A great landmap and citymap made specifically for you, is a great tool. You can immediately see where you are and where the sights are.
Everything in the app is easy to operate, without any knowledge and suitable for young and old.

This app is free while you normally would pay for a guided tour, you may enjoy navigating through Malta on your own terms.
This app is constantly maintained about: attractions which are closed due to renovation, changed entrance fees or opening times, etc. This maintenance costs a lot of money. However, it has been decided not to include annoying advertisements. The app has no hidden costs.
If you are visiting Valletta and you want to walk there and see the most interesting sights, our free app is a perfect tool. You will immediately find out what there is to do in Valletta. At a glance you see the most interesting places, so that you can determine your own walk. With the app you have a clear map and you know where you are during your own Waking tour.