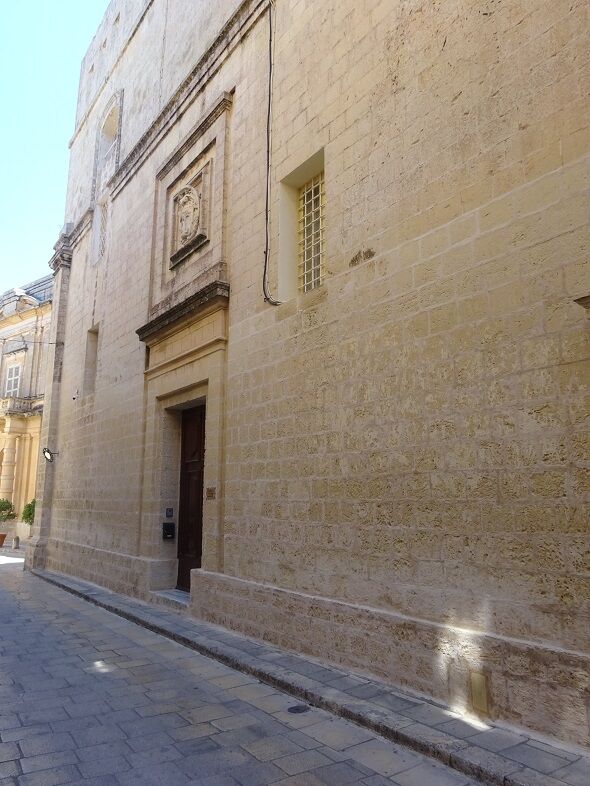 Monastery of St Peter
The first nuns arrived in Malta at the beginning of the 15th century. The St. Peter's Monastery was founded around 1418.
In 1550 Bishop Cubelles of Malta announced that the chapel was equipped with gold and silver and that all necessary items were present which were needed for worshipping.
On the initiative of Bishop Baldasarre Cagliares the church was renovated in 1625.
The church and monastery of St. Peter, (a Roman Catholic Benedictine Monastery), is well taken care of from 1625 onwards and there are about eight nuns who live there.
The altar piece dates from 1628 and is the work of Mattia Preti. It shows the Madonna and the Child with St. Peter, St. Benedictus and St. Scholastica. There are also two works of Francesco Zahra, which show the resurrection of Jesus and Our Dear Lady of the Pillar.
Around 1850 there lived a nun in the monastery called Maria Adeodata Pisani. Maria Adeodata was blessed by Pope Johannes Paulus II.
The free app
Down load our app. This is the best, ultimate and most comprehensive app you can get of Malta.
The Church and Monastery of St Peter - Find tourist and Holidays information about Mdina in our Map app and discover interesting sights. Find all things to do and places of interest in your tour.
We provide so much information that two apps has been created, Valletta - Mdina and island Malta - Gozo. You will see in this series more than 350 places of interest and discover the many historical secrets of the country Malta. In the Valletta - Mdina app is also included it neighboring Floriana en Rabat and is also useful if you are taking a cruise through the Grand Harbor of Valletta and the Marsamxett Harbor. This Valletta app is also great when you enter the grand harbor via a cruise ship!
This series is also convenient whether you are walking, driving a car, or using the hop-on and hop-off bus trip, boat trip, etc.

his app provides you with general information about the sights, Malta's beauty, secrets, history and culture, its architecture, fortifications, etcetera and specific information as: what took place here?; When was it built and by whom?; What are the functions of all these buildings?
The app describes also religious subjects, museums, parks, places of interest, public toilets and much more useful information. Interesting texts set up by local experts and additional informative photos make this app distinctive.
This app answers many questions and shows in an easy to navigate way where the sights are located. A great landmap and citymap made specifically for you, is a great tool. You can immediately see where you are and where the sights are.
Everything in the app is easy to operate, without any knowledge and suitable for young and old.

This app is free while you normally would pay for a guided tour, you may enjoy navigating through Malta on your own terms.
This app is constantly maintained about: attractions which are closed due to renovation, changed entrance fees or opening times, etc. This maintenance costs a lot of money. However, it has been decided not to include annoying advertisements. The app has no hidden costs.
If you are visiting Mdina and you want to walk there and see the most interesting sights, our free app is a perfect tool. You will immediately find out what there is to do in Mdina. At a glance you see the most interesting places, so that you can determine your own walk. With the app you have a clear map and you know where you are during your own Waking tour.