Building of the Manoel Theatre
Manoel Theatre
The Manoel Theatre is one of the oldest theatres in Europe, built by the Portuguese Grand Master Antonio Manoel de Vilhena in 1731. It is famous for its acoustics and its magnificent baroque interior, accented by tiers of gilded boxes and a gallery. The courtyard has a cafe and a restaurant.
App info: In our app you will find the location, address, opening hours and admission / entrance fee of this spot. If you use the app, you will find additional information and news about this spot on this page.
The museum of the opera house is open on from Monday to Saturday.Tours of the Theatre start from the Museum (entrance is past the Theatre main entrance down Old Theatre Street.
Though modest in size, the display rooms of the Museum depict a rich outline of the glorious and interesting history of Teatru Manoel before proceeding to the impressive baroque auditorium of what is one of the oldest working theatres in Europe.
Additional Online information
Look for ticket information, opening time
s and days
, entra
nce fee or donation and location in our
free app
or on our
opening and entrance information page
.
The theater was built in ten months, with the aim of entertaining the young knights of the Order of St. John and providing honest entertement for the public. Above the entrance this motto is still "ad honestam populi oblectationem".
The first performance was a classic Italian tragedy, Scipione Maffei's Merope. The players in the production were the Knights themselves, and the set was designed by the Knights` chief architect, Francois Mondion.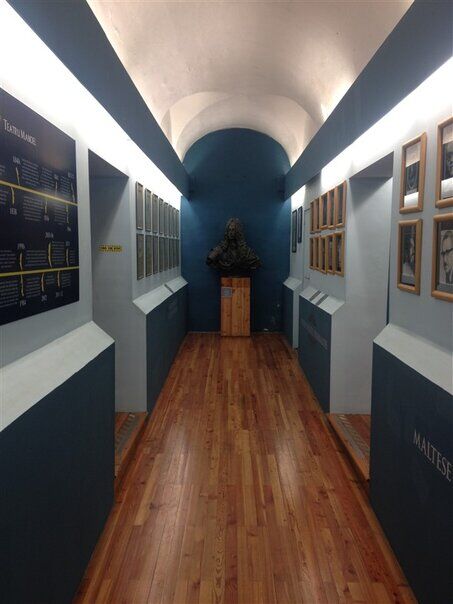 During the British period it became a Royal Theater. The building underwent a series of changes and extensions. The theater attracted an ever-growing audience of locals, tourists and foreign dignitaries.

During the WWII the theater was a hiding place for bomb bombings, fortunately the theater escaped serious damage from bombing.
In 1957 the theater was bought back by the Maltese government.
A thorough renovation took place in 2004.
The free app
Down load our app. This is the best, ultimate and most comprehensive app you can get of Malta.
Manoel Theatre
- Find tourist and Holidays information about Rabat in our Map app and discover interesting sights. Find all things to do and places of interest in your tour.
We provide so much information that two apps has been created, Valletta - Mdina and island Malta - Gozo. You will see in this series more than 350 places of interest and discover the many historical secrets of the country Malta. In the Valletta - Mdina app is also included it neighboring Floriana en Rabat and is also useful if you are taking a cruise through the Grand Harbour of Valletta and the Marsamxett Harbour. This Valletta app is also great when you enter the grand harbor via a cruise ship!
This series is also convenient whether you are walking, driving a car, or using the hop-on and hop-off bus trip, boat trip, etc.

his app provides you with general information about the sights, Malta's beauty, secrets, history and culture, its architecture, fortifications, etcetera and specific information as: what took place here?; When was it built and by whom?; What are the functions of all these buildings?
The app describes also religious subjects, museums, parks, places of interest, public toilets and much more useful information. Interesting texts set up by local experts and additional informative photos make this app distinctive.
This app answers many questions and shows in an easy to navigate way where the sights are located. A great landmap and citymap made specifically for you, is a great tool. You can immediately see where you are and where the sights are.
Everything in the app is easy to operate, without any knowledge and suitable for young and old.

This app is free while you normally would pay for a guided tour, you may enjoy navigating through Malta on your own terms.
This app is constantly maintained about: attractions which are closed due to renovation, changed entrance fees or opening times, etc. This maintenance costs a lot of money. However, it has been decided not to include annoying advertisements. The app has no hidden costs.
If you are visiting Valletta and you want to walk there and see the most interesting sights, our free app is a perfect tool. You will immediately find out what there is to do in Valletta. At a glance you see the most interesting places, so that you can determine your own walk. With the app you have a clear map and you know where you are during your own Waking tour.