Lazzaretto
Manoel Island formerly Isolotto, is a peninsula that is located in the Marsamxett Harbour.
App info: In our app you will find the location, address, opening hours and admission / entrance fee of this spot. If you use the app, you will find additional information and news about this spot on this page.
During the outbreak of the plague from 1592 to 1593, a quarantine hospital known as Lazzaretto was built from wooden huts. After the disease disappeared, the hospital was demolished a year later.
During the reign of Grandmaster Laskaris a permanent quarantine hospital was built in 1643 to control the continuous influx of Pest and Cholera via ships. Passengers and / or crew from quarantine ships were admitted to the quarantine facility or the hospital.
Incoming mail was disinfected by smoking it and then marking it with a red wax stamp.
The hospital was expanded with a second block built in 1670 during the reign of Grandmaster Nicolás Cotoner.
The Grand Masters Gregorio Carafa in 1683, Ramon Perellos y Roccaful in 1701 and António Manoel de Vilhena 1726 improved the hospital.
Richer patients, such as Lord Byron, Sir Walter Scott, Horace Vernet, Benjamin Disraeli and Alphonse de Lamartine, had a separate ward and were able to order food at the Beverley Hotel in Valletta, after which the food was brought by a small rowing boat the "dgħajsa" ". Later the separate department also got its own restaurant.
During the reign of Grandmaster Emmanuel de Rohan-Polduc a third block was built in 1797 and a number of warehouses.
Ships were obliged to remain in port for 40 days, and the crew was expected not to leave the ship.
Sometimes there were as many as 8 ships where an infection had broken out in quarantine in front of the hospital.
A plague epidemic broke out in Malta in 1813 - 1814, a cholera epidemic in 1865 and another plague in 1936. The hospital was also used for the Maltese population during this period.
Lazzaretto served as a military hospital during the French blockade and the British period.
Italian soldiers were nursed during the Crimean War.
In 1939, Lazzaretto's health function expired, and it was used for military purposes, such as a base called HMS Phoenicia, a depot for submarines and minesweepers.
During the Second World War the area was bombed by German and Italian planes, with the result that many buildings were destroyed or damaged, resulting in demolition.
Lazzaretto reopened as a hospital in 1949 and remained so during the British period until 1970 when it fell into a state of decline.
Address

and street / location can be found on our map, click on Guide in the menu bar and you will get a map with markers.

Book: Buy tickets for place of interest. sights, hop on hop off buses, exhibitions, safari, etc or book and tour.

Latest news

and original website of the attraction / spot / advent
Additional information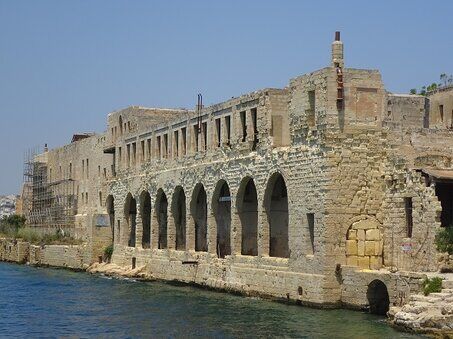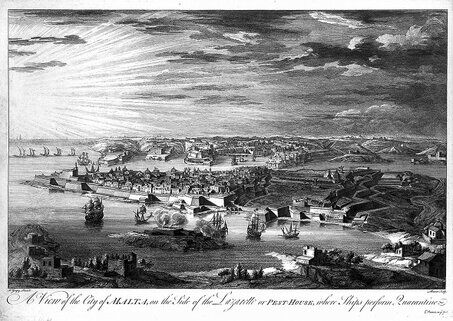 This Lazzaretto page is part of "The Malta Magazine".
This magazine is for every resident and visitor to the country of Malta. But is also educational and for anyone interested in Malta. The Malta Magazine highlights the past and present of specific subjects and/or places of interest with the help of extensive information and photos.

As a tool during your journey of discovery through Malta, you can use our information services free of charge. You can do this in two ways, via our website https://maltaguide.pro or our app depending on your operating system, Google Play or Apple Store. Both give you the same information.
"The Malta magazine" is the best, ultimate and most comprehensive magazine you can get of Malta.
The magazine is growing fast and will soon contain more than 350 interesting topics.
Find and discover interesting sights and discover the many historical secrets of the country Malta. Find all things to do and places of interest in your exploration.
"The Malta magazine" is also convenient whether you are walking, driving a car, or using the hop-on and hop-off bus trip, boat trip, etc.
"The Malta magazine" provides you with general information about the sights, Malta's beauty, secrets, history and culture, its architecture, fortifications, etcetera and specific information as: what took place here?; When was it built and by whom?; What are the functions of all these.
"The Malta magazine" describes also religious subjects, museums, parks, places of interest, public toilets and much more useful information. Interesting texts set up by local experts and additional informative photos make this app distinctive.
"The Malta magazine" answers many questions and shows in an easy way to navigate way where the sights are located. A great landmap and citymap made specifically for you, is a great tool. You can immediately see where you are and where the sights are.
In this "Malta Magazine" you will find the location, address, opening hours and admission / entrance fee, general additional information and news about the spot.
Everything in "The Malta magazine" is easy to operate, without any knowledge and suitable for young and old.
"The Malta magazine" is free while you normally would pay for a guided tour, you may enjoy navigating through Malta on your own terms.
"The Malta magazine" is constantly maintained about: attractions which are closed due to renovation, changed entrance fees or opening times, etc. This maintenance costs a lot of money. However, it has been decided not to include annoying advertisements. The "The Malta magazine" has no hidden costs.
The skillfielly texts are written by local experts and additional informative photos make "The Malta magazine" information provision distinctive.