D
ownload the complete FREE Harbour App (Click on your store) >>>>>>>
Description of the Harbour app
In this app you will find all places of interest in Valletta, Mdina, Rabat and the harbours around Valletta. You walk or sail where you want to go and the map automatically indicates where you are and what to see.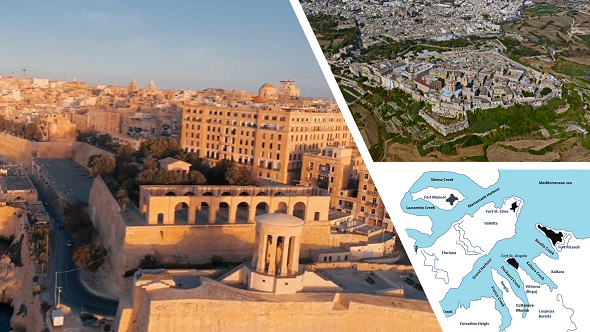 This ultimate app provides you with a great tour of the Grand Harbour of Valletta, informing you about the harbour's history and culture, its architecture and fortifications besides much other useful information. Beautiful texts set up by local experts and additional informative photos make this app distinctive.
The app shares the view from a vessel throughout the Grand Harbour, Marsamxett Harbour, Sliema Cr, Lazzaretto Creek, Msida Creek, Pieta Creek, Marsa Creek, France Creek, Dockyard Creek, Kalkara Creekeek, Rinella Creek . When you arrive at the Harbour on board of a cruise liner, boat or other vessel, you are entering an authentic historical harbour. What took place here? When was it built and by who? What are the functions of all these buildings? This app answers many questions and shows in an easy to navigate manner where the sights are located. This app provides you with general and specific information about the sights, history, culture and architecture.
Through this guide, you may be informed in more detail about Malta and Valletta and get specific information on 23 sights around the Grand Harbour of Valletta, such as: The Breakwater of the Grand Harbour, Fort St Elmo, Fort Rinella, Ricasoli Tanker cleaning unit, Sacra Infirmeria, Lower Barrakka Garden, Sta Barbara Bastions, Villa Bighi, Fish Markets and warehouses, Kalkara, the Three Cities (popular names Senglea, Bormla and Birgu or respectively official names Isla, Cospicua and Vittoriosa), Fort St Angelo, the watchtower (Gardiola) at Senglea Gardens, the church Notre Dame of Liesse and Victoria Gate, the Upper Barrakka Gardens, the Dockyard and the French Creek, Floriana, Marsa and Kordin heights. There is also a brief general information available about the history of Malta and Valletta.
You can also use the app for a tour of Valletta and Floriana.
This ultimate app distinguishes itself by its easy operating system. And, for a fraction of the cost of which you normally would pay for a guided tour, you may enjoy navigating through the Grand Harbour of Valletta on your own terms. The guide feature, pay version, can be used without an internet connection. A number of miscellaneous functions (App tools) and additional tools for your guided tour are added free of costs. However, these additional functions often need an internet connection to function. These tools are not necessary for the proper functioning of the app's guide function.
The difference between the free version and the paid version is that the paid version has no advertising and the guide feature can be used without an internet connection. The guide can operate completely offline.