A general photo of Dockyard Creek
Dockyard Creek
The Order of St. John established its maritime activities in this creek, from maintenance to construction of galleys

.
App info: In our app you will find the location, address, opening hours and admission / entrance fee of this spot. If you use the app, you will find additional information and news about this spot on this page.
After Malta had asked the British to help them expel the French from the island, the British period began in 1800, two years after the French occupation.
With the loss of Menorca (Spain), Malta became the largest Royal Navy port in the Mediterranean and a drydock was soon built, the first Royal Dockyard outside of Great Britain. This dock is called Dock No 1.
Very quickly the area was completely used for maritime activities and was extended to the French Creek.
An increase in the fleet also meant that there was a need for more facilities such as warehouses, a rope-making shop, accommodation for officers and men, workshops, shops, a kitchen, a bakery, etc, etc.
During the Second World War a massive attack by 60 dive bombers took place on the shipyard in January 1941 but only one bomb hit the target. However, the bombing by German and Italian bombers did not stop.
In April 1942, the Admiral supervisor reported that, due to the ongoing bombing, the Royal Dockyard could no longer function.
In 1979, the shipyard, the base of the Royal Navy, was closed and the Royal Navy withdrew from Malta. Malta was independent!
Today this creek is mainly used to berth boats and yachts in the marina. At the beginning of the creek there is space especially for super luxurious yachts with a length of maximum 135 metres.
Complete service is available for the berth, from complete bunkering, provision, technical services and the renting of a captain.
There is little to be found from the British period.
Additional Online information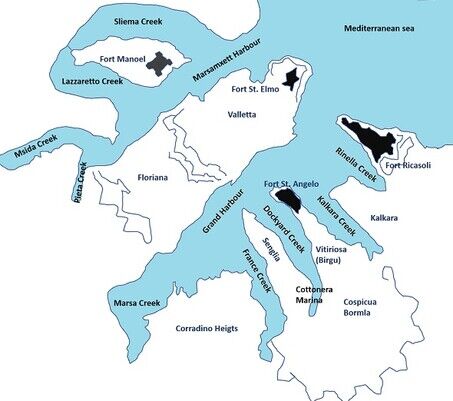 Photo below: On the left you see Fort St. Elmo with Victoriosa (Birgu) behind it. On the right you will see Sengela. Dock number 1 is located at the end.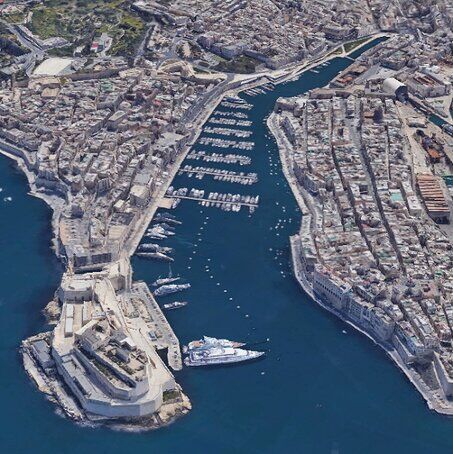 The free app
Down load our app. This is the best, ultimate and most comprehensive app you can get of Malta.
We provide so much information that three apps has been created, Valletta, Mdina, island Malta and Gozo. You will see in this series more than 350 places of interest and discover the many historical secrets of the country Malta. In the Valletta app is also included it neighboring Floriana and is also useful if you are taking a cruise through the Grand Harbor of Valletta and the Marsamxett Harbor. This Valletta app is also great when you enter the grand harbor via a cruise ship!
This series is also convenient whether you are walking, driving a car, or using the hop-on and hop-off bus trip, boat trip, etc.

his app provides you with general information about the sights, Malta's beauty, secrets, history and culture, its architecture, fortifications, etcetera and specific information as: what took place here?; When was it built and by whom?; What are the functions of all these buildings?
The app describes also religious subjects, museums, parks, places of interest, public toilets and much more useful information. Interesting texts set up by local experts and additional informative photos make this app distinctive.
This app answers many questions and shows in an easy to navigate way where the sights are located. A great landmap and citymap made specifically for you, is a great tool. You can immediately see where you are and where the sights are.
Everything in the app is easy to operate, without any knowledge and suitable for young and old.

This app is free while you normally would pay for a guided tour, you may enjoy navigating through Malta on your own terms.
This app is constantly maintained about: attractions which are closed due to renovation, changed entrance fees or opening times, etc. This maintenance costs a lot of money. However, it has been decided not to include annoying advertisements. The app has no hidden costs.
Through the app you will also find: visit malta walks, visit malta in march, areas in malta, beach resorts in malta, best hotel in malta, best place to stay in malta, best place to stay in malta for couples, cruise malta, cruise port malta, holiday malta, hotels in malta, information on malta, interesting places in malta, living on malta, malta beautiful, malta for tourists, malta place, malta places to see, malta points of interest, malta resort, malta sights to see, malta sights, malta sites of interest, malta to visit, malta top 10 places to visit, malta top attractions, malta top beaches, malta top destinations, malta top sights, malta tour, malta tourist guide, malta travel guide, malta traveling, malta trip, malta vacation, malta visit, malta visiting places, malta visitors guide, malta walking, nicest places in malta, on the beach malta, place to stay in malt a, place to visit in malta, tour of malta, visit malta in march, App about Malta. Malta Free app and much more.