Monument the Bell Monument
Siege Bell Memorial / Bell Monument
Tiny Malta, during its long history, has endured many attacks and sieges. Of course, its strategical position in the middle of the Mediterranean Sea, made it a soft target for pirates, slave traders and powers with imperialistic aspirations. King George VI awarded Malta the St George Cross, for its endurance, suffering and bravery during the WWII.
The St George Cross is positioned in the pole side of the Maltese flag and reads: 'For gallantry'. Queen Elisabeth II, fifty years after her father had awarded Malta the St George Cross, came to Malta in 1992 and together with the President of Malta, H.E. Dr Cencu Tabone, she inaugurated the Siege Bell Memorial.
The designer of this monument is Michael Sandis. His creation stands on the end of the St Lazarus Curtain, adjacent to the Lower Barrakka Gardens. This belfry is designed as an oval neo-classical temple with columns, and its 10-tonne bell is rung daily at noon. The reclining figure in bronze commemorates the many victims of WWII and symbolises the sea burial of an unknown soldier.
Opening hours

Daily:
Circa 7:30 until dusk

Ticket / admission fee



Additional Online information
Look for ticket information, opening time
s and days
, entra
nce fee or donation and location in our
free app
or on our
opening and entrance information page
.
Entrance to the war monument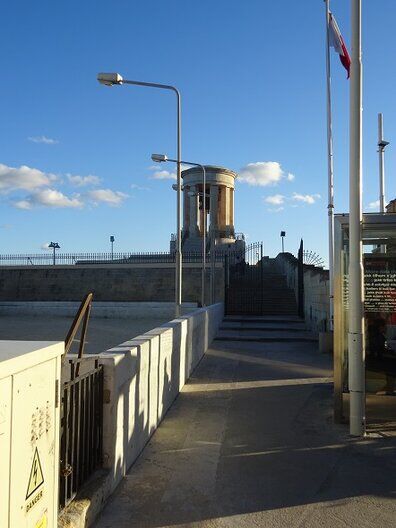 The bell weigh 10 tons and has a diameter of 264 cm.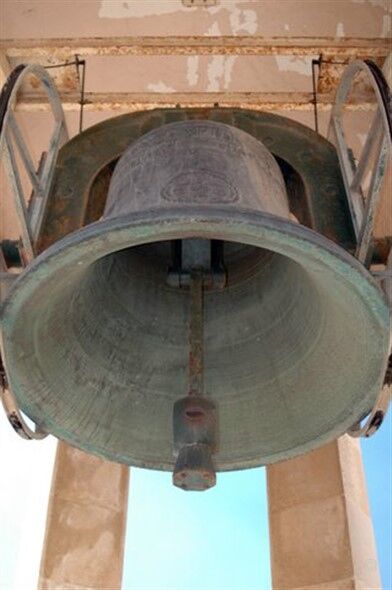 On a bronze catafalque (elevation) the unknown soldier laid out.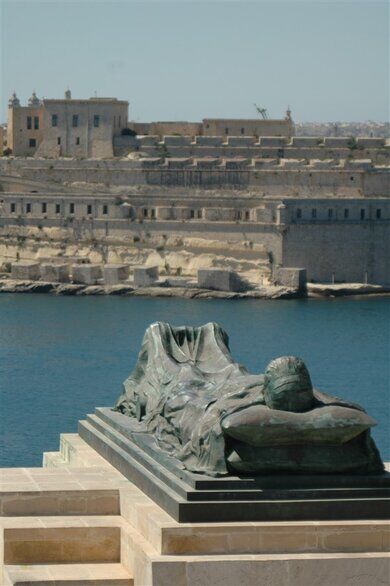 This

Siege Bell Memorial / Bell Monument

page is part of "The Malta Magazine".
This magazine is for every resident and visitor to the country of Malta. But is also educational and for anyone interested in Malta. The Malta Magazine highlights the past and present of specific subjects and/or places of interest with the help of extensive information and photos.

As a tool during your journey of discovery through Malta, you can use our information services free of charge. You can do this in two ways, via our website https://maltaguide.pro or our app depending on your operating system, Google Play or Apple Store. Both give you the same information.
"The Malta magazine" is the best, ultimate and most comprehensive magazine you can get of Malta.
The magazine is growing fast and will soon contain more than 350 interesting topics.
Find and discover interesting sights and discover the many historical secrets of the country Malta. Find all things to do and places of interest in your exploration.
"The Malta magazine" is also convenient whether you are walking, driving a car, or using the hop-on and hop-off bus trip, boat trip, etc.
"The Malta magazine" provides you with general information about the sights, Malta's beauty, secrets, history and culture, its architecture, fortifications, etcetera and specific information as: what took place here?; When was it built and by whom?; What are the functions of all these.
"The Malta magazine" describes also religious subjects, museums, parks, places of interest, public toilets and much more useful information. Interesting texts set up by local experts and additional informative photos make this app distinctive.
"The Malta magazine" answers many questions and shows in an easy way to navigate way where the sights are located. A great landmap and citymap made specifically for you, is a great tool. You can immediately see where you are and where the sights are.
In this "Malta Magazine" you will find the location, address, opening hours and admission / entrance fee, general additional information and news about the spot.
Everything in "The Malta magazine" is easy to operate, without any knowledge and suitable for young and old.
"The Malta magazine" is free while you normally would pay for a guided tour, you may enjoy navigating through Malta on your own terms.
"The Malta magazine" is constantly maintained about: attractions which are closed due to renovation, changed entrance fees or opening times, etc. This maintenance costs a lot of money. However, it has been decided not to include annoying advertisements. The "The Malta magazine" has no hidden costs.
The skillfielly texts are written by local experts and additional informative photos make "The Malta magazine" information provision distinctive.